DEATH CLOUDS on Mt Baldy
A TRUE STORY ABOUT THE HEROES THAT PARTICIPATED IN THE
LARGEST SEARCH & RESCUE OPERATION IN ARIZONA'S HISTORY.

THEIR MISSION:
TO RESCUE THREE LITTLE BOYS LOST IN A SOUTHERN ARIZONA ROGUE MONSTER BLIZZARD.
Select the

NPR BROADCAST

tab above to listen to the NATIONAL PUBLIC RADIO'S narrated story
presentation including interview with author Cathy Hufault and survivor Ralph Coltrin.
Now available at $5.95 on Amazon KINDLE - Click here for link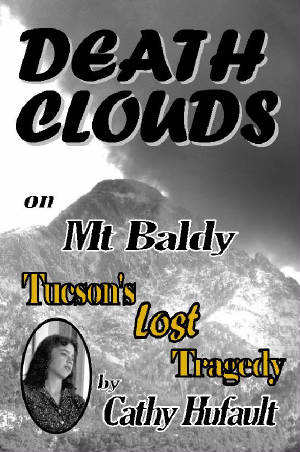 REVIEWS
of
Death Clouds on Mt. Baldy
:
" ... a deeply haunting yet inspiring true story written by a sister of one of the youngest survivors. The writer, Cathy Hufault, produces a fascinating experience for now, and generations to come"... Michael Blake, Academy Award winner and author of Dances with Wolves.


"
Riveting!
"... Donald Carson, award winning reporter from
The Arizona Daily Star
for 1958 Arizona Press Club's "Story of the Year".
"One of the four books of the year! ... poignantly written,
compelling
..." Emil Franzi,
The Explorer
.
"Captivating! No Tucsonan who was here on that November weekend in 1958 can forget the heartbreaking story of the six Boy Scouts on a birthday celebratory hike in the Santa Rita Mountains." J.C. Martin reporter for The Arizona Daily Star, 2011

"Gripping! ... every parent's worst nightmare!" Robert J. Miles, The Roundup, Western Writers of America.

"Spellbinding! ..." Bruce Dinges, The Journal of Arizona History.

Plaque on Old Baldy Trail at Josephine Saddle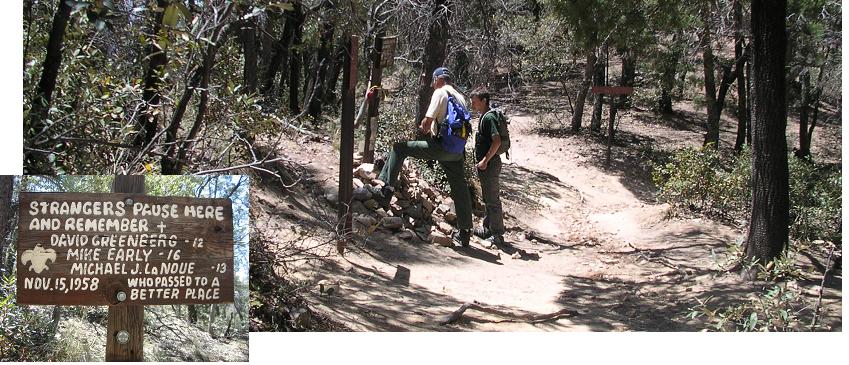 Tucson scout survivor Ralph Coltrin recalls 1958 Arizona tragedy with his son.